Listing Your Miromar Lakes Home for Sale
Posted:
List Your Miromar Lakes Home for Sale Where the Buyers are Looking!
Most home buyers start their home search on the Internet. So, it makes sense to advertise your home on the Internet, too.
And, we're unique because we look for and attract buyers to our marketing websites, and we aggressively promote your home online!
In Today's Market, Success or Failure Depends on Marketing
To win in today's market, if you're listing your Miromar Lakes home for sale, you need a multi-faceted marketing plan, with an emphasis on promoting your home where the buyers are: a plan that includes intense exposure on the Internet. And, I can provide you with the plan that will lead to success.
We'll Start with Market Positioning

Selling a home is just like selling anything else. You need to know who your buyer is and what that buyer will find valuable about your home. I'll get to know and understand your home and your neighborhood. That leads to developing an effective buying proposition. For example, if you are selling an estate home, we won't make the mistake of describing the home to be attractive to typical first time home buyers.
An another important part of positioning is knowing your home's value. I can assist you in pricing your home right using a comprehensive comparable marketing analysis or CMA. When you price your home right, you'll get the most profit when you sell. This home evaluation includes identifying how your home compares to homes that have sold recently, and to homes currently on the market in the area – your competition. We'll also explore other factors such as market trends and your goals (for example, how quickly you want to sell).
The end result of an outstanding buying proposition and accurate pricing is a marketing plan that works!
Your home will be seen on a variety of online home sale sites such as Realtor.com.
Virtual flyers are another part of my Internet marketing plan. These flyers can be emailed, distributed in print, or viewed on the Internet.
Virtual home tours will be prepared to show your home off to its best advantage.
In addition to widespread Internet exposure, your home will be promoted on your own website. The link to that site will be YourStreetAddress.MiromarLakesRealEstate.com. It will be easy for you to promote your home's sale by giving your friends and family an easy to remember domain name.
Finally, your listing will have an honored place as a featured listing on this website.
The Traditional Marketing Plan
We won't forget traditional marketing approaches that are still very important today. Traditional marketing efforts include a yard sign, color brochures, a just listing announcement. Of course, listing your home on the MLS (Multiple Listing Service) is a critical piece of any overall marketing plan.
Getting the Best Possible Sale Price
The hard part of selling a home is attracting the right buyers and getting bids. But, the transaction isn't over until the contract negotiations are completed. My goal is to make sure that the final contract meets your needs, and that the closing is completed. Negotiating for you is what I do best.
Request Your No Obligation Comparative Market Analysis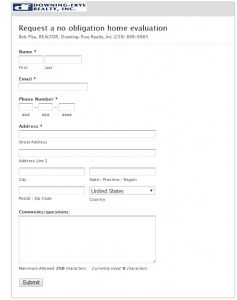 Miromar Lakes Homes Sale Home Evaluation will help determine the correct selling price of a home. We look for the highest price that the market will bear. To assist you in determining the correct asking price we provide you with a comprehensive market analysis of comparable properties sold and offered for sale in your neighborhood.
To provide a detailed Comparative Market Analysis, we meet at your home, learn about the unique features and upgrades within, and review the details of your property as it pertains to the current market.
Simply fill out the no obligation request form and we will provide you with a speedy response. The more information given, the more accurate the evaluation. All information you provide is secure and will be kept strictly confidential. There is no obligation.
If you're ready to discuss selling your home, let me put my expertise to work for you. Please use the form at the top right of this page to send an email.